ADD your ISIN Codes to ISIN.org Public Database for All to View.
The 3 Most Important Reasons to Add Your ISIN code information to The ISIN Organization Global Database
Credibility & Integrity.
The ISIN Organization (ISIN.org) is the largest independent source of International Securities Identification Number information and the most robust and most easily-accessed ISIN database in the world.
Information Distribution.
ISIN.ORG is the top rated web address for ISIN code information searches worldwide. Every internet search for ISIN codes or related Securities Issuer information leads immediately to www.isin.org.
Easy Access to Robust Data. ISIN Databases:
ISIN.org maintains two databases: (i) a private database for ISIN.org Members to search and sort the millions of ISIN codes issued across 120 regions in the world, and (ii) a free, public database that enables anyone in the world to LOCATE and VERIFY a security by Issuer name.
Transparency
In today's global financial marketplace, qualified private and institutional investors demand transparency and "information integrity" with regard to investment vehicles offered by Issuers of securities. If your investors cannot verify that a security has been properly issued in accordance with global financial market protocols, they may be prohibited from investing in your Offering. ISIN.org fills this void.
Step 1: Add Your ISIN and Company Profile
Simply fill in your company and ISIN profile and click Submit. It's that easy. Login to your account and update as often as you want in real time.
Step 2: ISIN Profile Goes Live – It's that Simple!
Your ISIN is now live on ISIN.org's public database for all to search and view.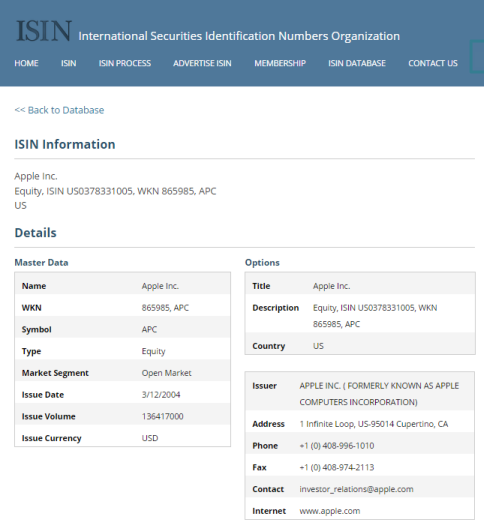 FOR A SAMPLE VIEWING PLEASE CLICK ANY BUTTON BELOW.
---
By Listing on ISIN.org, your ISIN and company profile can be submitted or found in outside portals such as BLOOMBERG.
Have us assist with posting your company or ISIN profile(s) on BLOOMBERG. We can also assist in obtaining additional securities identifiers like the BB Code or FIGI and have your product/securities placed on Bloomberg. You would need to join as a LEVEL 2 MEMBER and we can assist with posting your data on Bloomberg for no cost.
Funds – Hedge Funds and Mutual Funds, Units Trust and More
Listing your ISIN code or fund performance on the ISIN Organization's public database and receive great exposure for your fund. ISIN.org is the top rated destination for ISIN number searches worldwide.
Net Asset Value (NAV) and Nominal Value
By creating your own account with ISIN.org you can login and update your information as often as you like, including your Net Asset Value or Nominal Value. Updates are in real time.
ISIN.org - Credibility
There a few, if any, reputable public platforms for funds and companies to publicize their private issues and ISIN codes. Issuers of securities, including public and non-public companies, municipal governments, private equity firms, and the thousands of hedge funds, mutual funds, unit trusts and others that that issue debt, equity, warrants, private placements and financial derivatives, have few credible and easily-accessed platforms to publicize their ISINs. In addition, not only is there little to no ability to publicize their ISINs, they cannot publicize their private securities, including current values, corporate action notices and other relevant data the Issuer wants to publicize. ISIN.org's database fills this void.
Data Farms Vs. ISIN.org
Other than ISIN Organization's Global Database, information repositories of financial securities data are closed 'terminal farms'. These data farms are typically subscribed to by investment banks and management firms and are charged on a per user basis for tens of thousands of dollars per annum. Even then, those financial data platforms do not maintain Issuer or ISIN code information pertaining to the millions of private securities placed with investors across the 120 global regions in which ISIN codes are issued. ISIN.org's database fills this void.
Private Securities Made Public
ISIN Organization's robust ISIN database allows for issuers to publicize their ISINs. The majority of ISIN codes that are issued are private securities; thus the ISIN(s) remains private, unless placed on a platform such as ISIN Organization's database.
Note: ISIN.org is independent of banks, governments, associations, and financial institutions and ISIN.org has no affiliation with any such party.